As Christmas is fast approaching, it's time to think about how you will be spending the holidays. Christmas markets are the best way to get into the festive spirit and enjoy the magical season with friends and family. To help you find your perfect market destination, we have devised a list of the best Christmas markets in the world.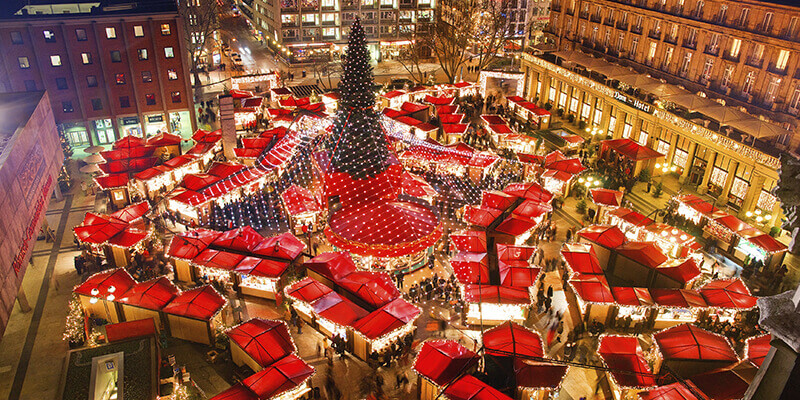 Your guide to the best Christmas markets in the world
Christmas markets are becoming increasingly popular year on year as they give visitors the chance to soak up a yuletide atmosphere. Filled with hearty comfort food, handmade gifts and stunning Christmas scenery, a Christmas market is the perfect day out with a partner, friends or family during the festive season. There are a number of Christmas markets in the UK, including winter wonderland in London, Leeds Christkindelmarkt and Bath Christmas market, but some of the best are located in other countries. With so much choice, we thought we would save you the trouble of browsing through hundreds of markets and shortlist our favourites. Although visiting a Christmas market will involve a little more planning ahead of time, we can assure that it is definitely worth it! To make sure everything runs smoothly for your trip from the minute you step out of your front door, our taxi services in Milton Keynes and airport taxis in Buckingham are here to help.
Viennese Christmas Market, Vienna, Austria
When it comes to Christmas markets, few cities can compete with the festive spirit of Vienna. The capital's first Christmas market was held all the way back in 1298, making them an age-old tradition. Today, the city has more than 20 Christmas events to choose from, but we suggest first-timers make their way to the iconic Viennese Christmas market. Located in front of city hall, the market consists of over 140 stalls which serve anything from tasty Christmas punch and traditional Austrian sausage to novelty and handmade presents. With an array of crafts and delicious delicacies on offer, you can expect to be spoilt for choice when attending this Christmas market. The enchanting market will make you feel like you have entered a fairytale Christmas wonderland, and there is something for everyone to enjoy. Alongside the market, you will find 'The Little Ice Dream' which is a completely unique skating experience consisting of winding ice paths through the romantic Rathauspark. Decorated with all things festive, you can glide through the icy pathways while listening to Christmas sounds for the ultimate dreamlike setting. If you don't exactly take to ice like a penguin, then don't worry as there are a whole host of other activities you can take part in. Creative crafting in the Volkshalle is a very popular pass time for those attending the market, or you could even take an exciting ride with reindeers in City Hall Park!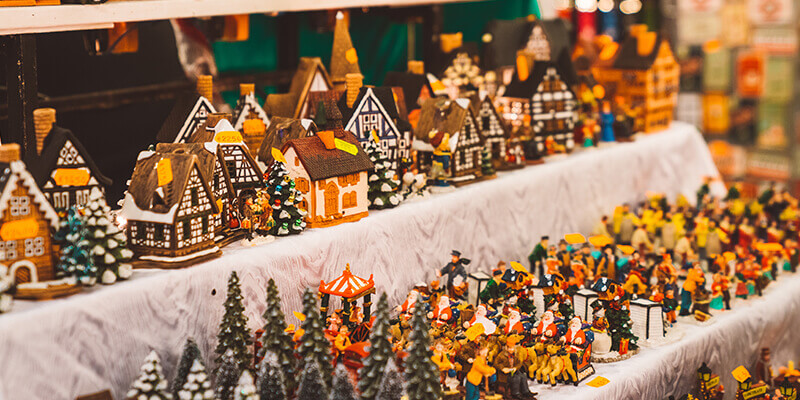 Frankfurt Christmas Market, Birmingham, UK
Being the largest authentic German Christmas market outside of Germany or Austria, Birmingham's Frankfurt Christmas Market attracts visitors from all over the UK and Europe every year. The market was originally bought to Birmingham by the bosses of Frankfurt's seasonal markets and has since become the centrepiece of the city's festive calendar. The market typically has around 80 stalls which offer various types of food, drink, toys and other gifts. If you have young children, this market would be ideal as you can bring them to see Chris Moose – a singing moose which has become a Christmas attraction in its own right. You can also take them on a magical one horse ride on the stunning ornate carousel.
Gendarmenmarkt, Berlin, Germany
Arguably the most beautiful public square in Berlin, Gendarmenmarkt is home to a charming Christmas market during advent. There is something new to experience every day in this market due to its varied entertainment programme. From jugglers and fire eaters to jazz and gospel ensembles, this market offers so much more than traditional Christmas food and drink. You will also be able to visit the large crafts tent where you can marvel at woodcarvers, belt makers, dressmakers and other craftspeople at work.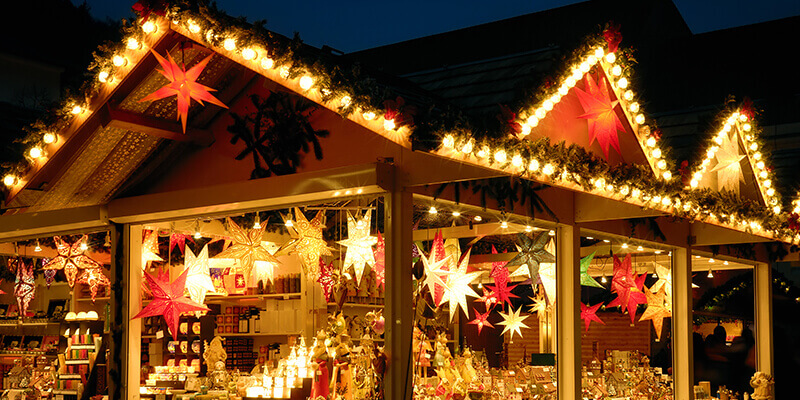 Winter Wonders, Brussels, Belgium
Arguably more of a festival than a Christmas market, Winter Wonders is Belgium's number 1 Christmas event. In a 1.5 mile fairytale route in the heart of the city, you will find over 250 chalets which attract over 1,500,000 people every year. An absolute must-see if you are attending Winter Wonder is the mesmerizing sound and light show at the Grand Place. It is here where you will also see an enormous, picture-perfect Christmas tree and nativity scene. What makes this event extra special is the magical Christmas parade which is held every Saturday evening. Over 100,000 people gather each year to experience the parade first hand, and we can see why! With more than 100 actors and dancers participating in the parade, you will see them passing by the Bourse, Grand-Place, Monnaie, Sainte-Catherine and Vismet handing out presents as they ride the floats.
Fira de Santa Llúcia, Barcelona, Spain
The inception of the iconic Fira de Santa Llúcia dates all the way back to 1786 where it was initially a celebration of the feast day of Santa Llúcia on 13th December. The fair has now evolved into a picturesque Christmas market that runs for three weeks. Boasting over 300 stalls, we highly recommend walking through the market twice, once during the day and once at night. We suggest doing this as you will be able to enjoy an entirely different atmosphere at different times of the day. Arguably the most popular activity at this market is the caga tio. This enormous piñata-style Christmas log is filled with sweets and gifts which spill out when beaten with a stick. If you do attend the Fira de Santa Llúcia, you should also take a walk to the neighbouring Plaça Sant Jaume where every year an original nativity scene is set up.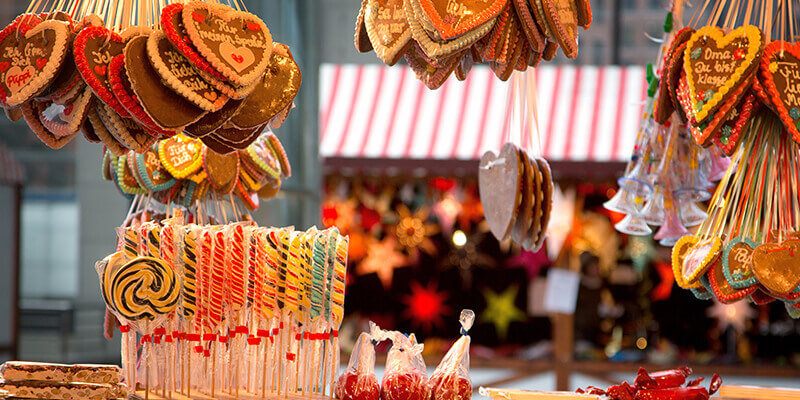 Budapest Christmas Fair and Winter Festival, Hungary
The Budapest Christmas Fair and Winter Festival is the oldest and most popular market in the Hungarian capital. With over 100 stands on display, you can browse Christmas themed gifts and try traditional Hungarian food. Handicraft shops are a huge attraction to this market as they showcase glass blowing, wood carving, candle making and traditional Hungarian embroidery and lacework. If walking around the market builds up your appetite, then you can head to the open kitchens. Here, you can enjoy a variety of holiday comfort food, such as nokedli dumplings, lángos and chimney cakes. There are a number of entertainment options to choose from too, such as free concerts in a wide range of genres, including folk, jazz, crossover, indie, blues and soul. In the evenings, you can opt to visit an enchanting festive light painting show on Cafe Gerbeaud.
Advent in Zagreb, Croatia
Magical festivities begin from the very first day of advent with the city's Christmas lights being turned on – a traditional signal that advent has begun. The main square is an absolute must-see when visiting Croatia during the Christmas season. It is here where you can find the large Advent wreath which surrounds the stunning Manduševac Fountain. When visiting the main square, you can also have a taste of the best-mulled wine and sausages. The impressive Christmas market destination includes an ice rink, live ice sculpture carvings, pop-up bars, street food stands and outdoor music stages. For something extra fun, visitors will find themselves in the Fuliranje area of Zagreb's Advent city-wide layout. Fuliranje translates to 'fooling around', and passerbys are encouraged to do just that. With over 60 performers, 12 international DJs, 25 regional DJs and 7 bands, you won't be able to resist joining in everyone else dancing in the street and soaking up the light-hearted atmosphere.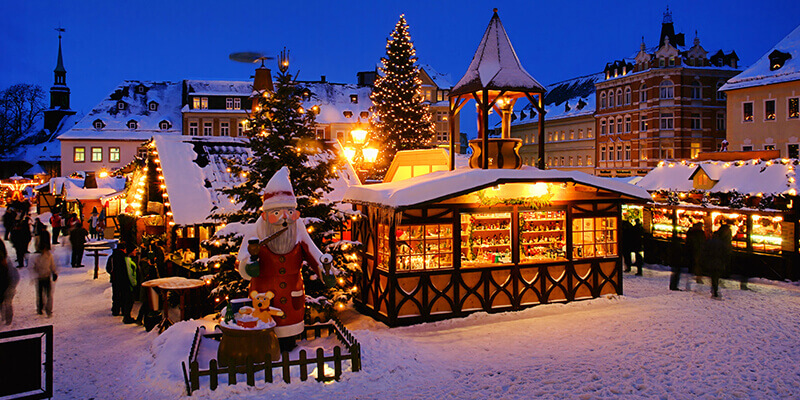 Bank of America Winter Village at Bryant Park, New York
The iconic holiday experience in Midtown Manhattan features the only free admission skating rink in New York City and is where you can witness the mesmerising Tree Lighting Skate-tacular. The Winter Village will also offer a selection of more than 175 vendors, housed in custom-designed "jewel box" kiosks. The shops offer a selection of local crafts, artisanal food, and goods from around the world. One of the newer additions to the village is The Lodge, a food hall operated by the popular Urbanspace. The Lodge features a cocktail bar surrounded by a full range of eateries, a range of dining options and an outdoor beer garden. As well as the winter village, there are so many other attractions which make visiting New York for Christmas a once in a lifetime experience. During your stay, you should definitely visit the Rockefeller Centre to see New York's pride and joy over the festive season, the Rockefeller Christmas tree.
Tallinn Christmas Market, Estonia
Held at the Town Hall Square of Tallinn, the market is the best place to try Estonian Christmas cuisines, such as black pudding and sour cabbage and gingerbread. The Christmas tree is arguably the star of the entire market as it is the most important Christmas tree in Estonia. The beloved tree has been set up in Town Hall Square since 1441, making it the first Christmas tree ever to be put on display in Europe. If you are looking for a Christmas market with a nostalgic ambience, then Tallinn is the ideal place for you. The historical location is home to many wonderfully preserved medieval buildings and long traditions. On the other hand, if you want to see something completely new, there is the opportunity to see a unique and playful gingerbread art and design exhibition – Gingerbread Mania.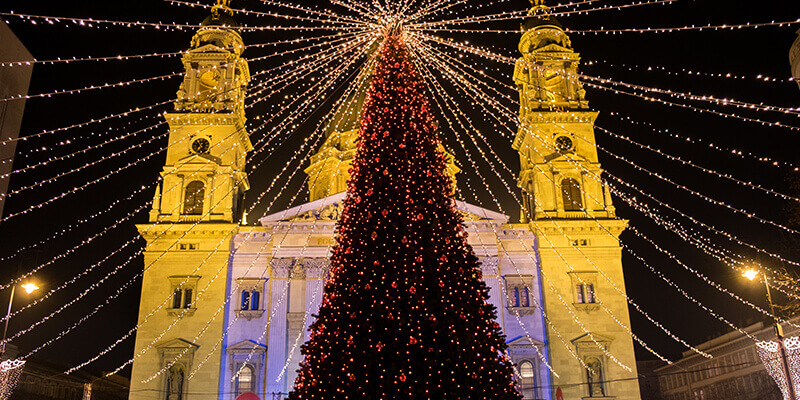 It's the most wonderful time of the year
Along with magical markets, Christmas also gives us delicious food, festive films and beautifully decorated trees, truly making it the best time of the year. Don't forget, to make sure your yuletide spirit isn't dampened with unreliable travel arrangements, we are here to help. Our services include long distance taxis in Leighton Buzzard and taxi services in Buckingham, contact us to ask how we can help make your dream Christmas trip a reality.