When thinking about a getaway, most people resort to spending a lot of money on travelling to somewhere outside the UK. However, a lot of the UK's cities look most beautiful when the snow falls upon them. It may surprise you, but the UK has some outstanding locations where you can find the perfect cosy restaurant, afternoon tea, festivals, markets, historical sites and independent shops. To show you just how beautiful the UK is during the winter period, here is our guide to the best winter getaways UK.
Best Winter Getaways UK: An Admiral Guide
With years of experience in providing taxi services in Onley and the surrounding areas, we have come across some of the most beautiful places that the UK has to offer. The likelihood is that you will not have to travel far to encounter stunning scenery, fun-filled Christmas markets and seventeenth-century villages. Not only are there many things that you can do, but planning a holiday in the UK may save you money and will give you just as much if not more joy then going abroad. Before looking at flights to Spain, why not take a look at some of the best places in the UK to visit this winter.
Bathing In Bath
Being the home of Jane Austen, it is no surprise that Bath radiates beauty in any season. The Georgian style buildings look picturesque as street lights highlight the elegant details of one of Britain's oldest and most beautiful cities.
Rich in 2000 years worth of history, you can experience the world-famous historical site of the naturally warm Roman baths. Including twilight tours and luxurious spa treatments, the Roman Baths are the cosiest place to relax this winter. Not only can you enjoy the warmth of naturally heated baths, delicious food, and relaxing spa treatments, but you can also take in the breathtaking view of Georgian and Roman architecture.
Bath is also full of festivals for everyone to enjoy the indulgence of food, entertainment and stunning views. A range of different festivals are available for you to visit across the winter period, so make sure that you keep informed about the festivals and events in Bath by regularly checking the Visit Bath website. Some festivals that you may want to visit include: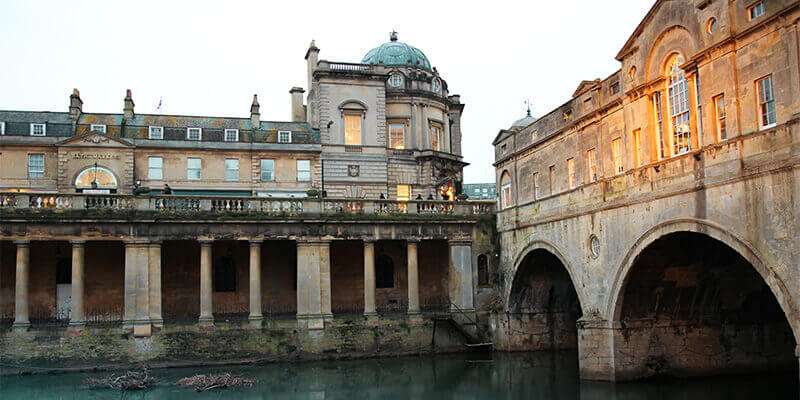 Sophisticated Cambridge
Cambridge is known worldwide to be one of the classiest and most stunning locations in the UK. The intricate detail on almost every building along Cambridge city centre makes it the perfect location for sightseeing all year round. However, as the winter creeps in, Cambridge becomes a stunning miniature winter wonderland. You will be wishing for snow this winter while standing in the centre of this beautiful city, vibrant with life and winter activities.
If you are looking for a winter wonderland but don't fancy heading into London, then Cambridge is your best alternative. The famous Parker's Piece is transformed into an enchanting North Pole from mid-November to early January. The magical wonderland includes ice skating under the stars, traditional German bars and winter treats for the whole family to enjoy.
The Botanic Garden in Cambridge holds a stunning array of flowers, nature and fresh air. Although the Botanic Garden is stunning all year round, during the winter, the garden is transformed into a remarkable display of lights and vibrant plants. The gardens are the perfect place to lose yourself for a few hours before venturing back to the cafe for a warm hot chocolate.
Although it may seem like a wild idea during the winter, taking a ride on the Cambridge punts is the best way to sightsee. Wrap up warm and treat yourself to a mulled wine before getting onto the boat, blankets are usually provided to make sure that you and your friends stay warm and cosy.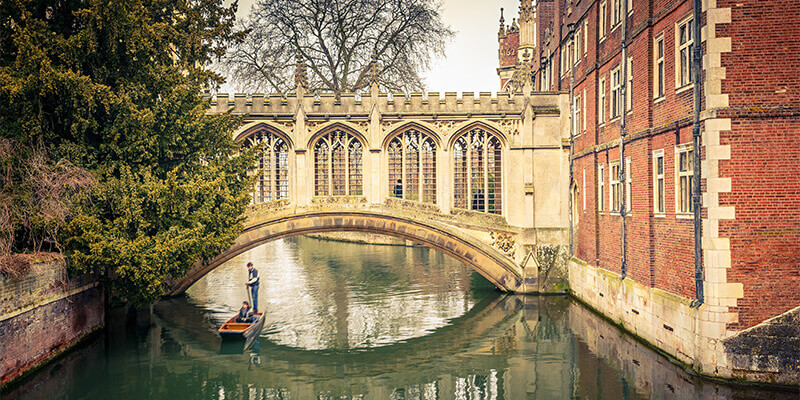 Cosy Cotswold
If it is shopping that you are looking for, then Cotswold is the perfect destination to rummage through boutiques and unusual shops. To make your shopping experience a little bit more special, Cotswold towns contain beautiful village scenery with a touch of quaint elegance for the perfect weekend getaway. Highstreets such as chipping Campden, contain terraced houses that date from the fourteenth-century to seventeenth-century and are built with an almost honey-coloured stone, adding to the towns elegance.
For a striking and memorable view, take a trip to Stanton which is on the edge of Cotswolds hills. Stanton is one of the prettiest towns in Cotswold and consists of an unspoilt village built almost wholly on local stone. For those with an interest in history, Stanton contains a range of stunning buildings from the sixteenth and seventeenth century. For more historical information, take a look at Cotswold's information page.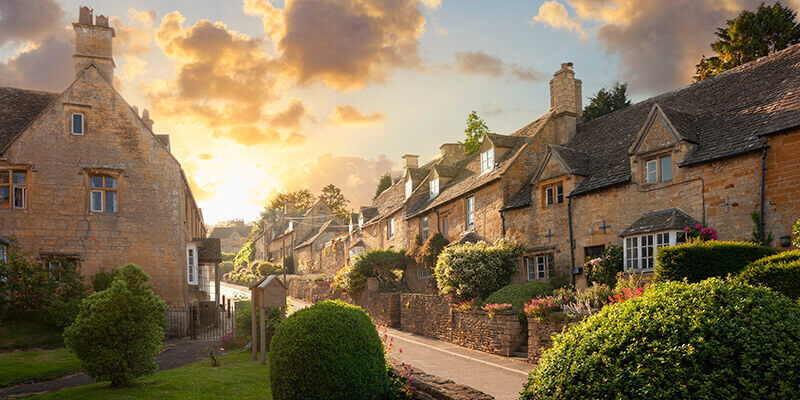 Wild Yorkshire
Yorkshire is full of wildlife adventures where you and your family can go wild for experience. For families looking to plan a winter holiday in the UK, Yorkshire is your best bet in pleasing everyone and ensuring that the whole family has a fun time. Wildlife centres such as the Yorkshire Wildlife Park which opened in 2009, have an array of fun and entertaining activities to endure. The wildlife centre consists of over 400 animals which include around 70 different species. The Jorvik Viking Centre is another location where you and the family can enjoy some fun memorise learning about Vikings and reimagining their lives.
Encounter the stunning views of Yorkshire by visiting one of the many natural sights that this beautiful city has to offer. The famous Yorkshire Dales has just had a glass floor installed, allowing you to view the stunning scenery of Dales How Stean Gorge. In the winter, the stunning gorge looks as beautiful as ever as the crisp cold, and crystal white snow falls upon the hills and trees. Another nature location to visit when travelling to Yorkshire during the winter is the charming Brimham Rocks. This site holds around 320 million years of history, of which you can take a slow walk through and visit the famous rock formations.
Of course, you cannot go to Yorkshire without visiting the ancient Roman town of York. With decades of history, this stunning location allows you to shop while enjoying the amazing attractions of our great countries history. The detailed and breathtaking gothic cathedral is a masterpiece worth seeing, and why not take a trip inside the cathedral. Ancient Roman ruins, such as the city walls, also remain within York, making it the perfect location for any historian novice or expert. Don't forget to visit the Shambles when in York for a petite cobbled street in the heart of the city. The Shambles consists of small boutiques and quaint gift shops for you to spend an hour or two indulging yourself in Yorks finest havens.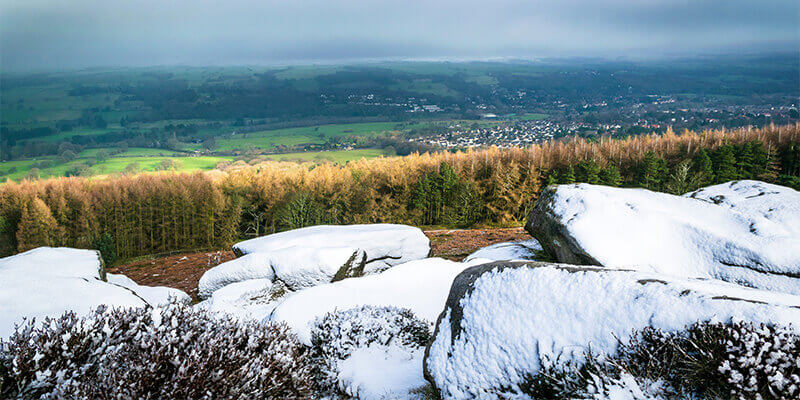 Scottish Highlands
Take yourself away to Scotland for a picture-perfect landscape that takes you to a magical world that you won't believe is in the UK. Scotland is known for its tourism from those that hope to see the Northern lights twinkle in the sky. Although conditions have to be just right for you to see the lights, you can visit the Scottish highlands to catch a glimpse of this colourful natural beauty. Before you go all the way to Scotland, make sure that you plan your holiday and book a hotel that is near locations where you can see the lights. For some of the best locations for the Scottish Northern lights, take a look at Visit Scotland blog, where you can find the best hotels and hot spots for the Northern lights.
Scotland is a top location for tourism during the summer, so by the winter season, the crowds have quietened down. Although this surprises us considering it is a stunning location – particularly when it snows – to take the whole family, it does mean that you can take advantage of the low prices. Hotel prices drop significantly during the months between September and March, which means that you can take the whole family and not have to worry about going over your holiday budget.
The quieter seasons are the best time to visit Scotlands most beautiful attractions. For example, you could take a walk around the ruins of Doune Castle, which in our opinion, looks it's most elegant in the winter when ice crystals form on the castle walls. You can stand on the castle walls and marvel at the beautiful landscape that you can see for miles. Imagine miles and miles of green forests covered in snow, well this is exactly what you'll be able to enjoy when visiting Scotlands most notorious locations during the winter.
Scotland is also full of fantastic festivals that you and the family can enjoy wondering around in for a few hours. Some festivals that you should consider visiting include:
Saint Andrews Day – 30th November
Christmas Market – 16th November to 24th Decemeber
Hogmanay Festival -29th December

Christmas Markets

Winter would not be complete without all of the magical Christmas markets appearing in our favourite UK cities. Deliciously warm food, mulled wine, German traditional hot dogs, hot chocolate and delicate gift stalls, makes for the perfect day of relaxing and enjoying good company. Luckily for you, Christmas markets have become increasingly popular with Brits, and you can find a range of unique markets in a variety of different places around the UK. Why not consider visiting one of the following Christmas markets:

London's Winter Wonderland
Manchester
Bath
Birmingham
Edingburgh
Cardiff
Leeds
Lincoln

Make sure that you try to visit at least one Christmas market this year, to get yourself in the Christmas mood. The stunning lights, fun activities and delicious food will most definitely make for a fun-filled day or evening. Book a long-distance taxi service in Buckingham or the surrounding area in advance to ensure that your day is planned perfectly.

Plan The Perfect Winter Getaway

Getaways do not always have to be warm locations with a pool and beach, the UK has some of the worlds most stunning destinations that look beautiful in every season. When planning the perfect getaway, make sure that you remember to book a long-distance taxi UK, so that you can relax while we whisk you away to your dream UK getaway. Now its time to research your perfect Winter getaway, plan your days, book a hotel and start your travels.