Aerophobia is the fear of flying and involves excessive worry about air travel. It is thought that up to 25% of people hold some form of aerophobia, whether this may be mild or severe, making it an incredibly common phobia. Along with the high number of those admitting to a fear of flying, comes a plethora of proven ways to reduce anxiousness and ease nerves. Through meticulous research into the most effective stress-busting techniques, we have devised a guide to the seven best tips for nervous flyers.
Quick Tips For Nervous Flyers
Whether you love to jet off over the Summer to enjoy the sunshine or regularly travel for work, a fear of flying can prove a tricky hurdle to overcome. For many, the feeling of anxiousness begins days before their scheduled flight, merely down to the thought of stepping on a plane. However, flying is, in fact, the safest mode of transport, beating both cars and trains by a considerable percentage. If you suffer from flight-related nerves, then you're in luck. We have put together seven proven ways in which you can not only tackle flight nerves but also begin to enjoy your journies.
1. Prepare In Advance
As the saying goes "start as you mean to go on", which means that one of the best ways to fight flight nerves is to ensure that you are as prepared for your journey as possible. The more you leave until the last minute, the more stressed you will become. The thought of forgetting your essentials will remain at the back of your mind, making your nerves begin even before you have arrived at the airport.
If possible, schedule to start packing for your trip at least one week before you're due to jet off. In doing this, packing can be completed in stages, ensuring that nothing is missed off the list. For example, all clothing can be folded one day; then your toiletries bag can be tackled the next. Spend time devising a packing list, including all of the essentials, along with extra items that you hope to bring along. If you're struggling for inspiration on what to include on your packing list, we suggest taking a look at Holiday Packing List for the full lowdown.
Along with your suitcase, we also recommend packing your on-flight bag a few days before you are scheduled to travel. In doing this, if you do spot anything that you have forgotten to purchase, you have plenty of time to pop to the shop. Essentials for your flight bag include the following:
Documents – Passport, boarding pass, copy of your insurance details and legal documents (visa documents, additional photos, etc.)
Money – Although you do not want to keep all of your spending money on you during the flight, we suggest bringing half in your bag.
Cosmetics – Deodorant, face and body wipes, hand sanitizer, a packet of tissues, toothpaste and toothbrush.
Extras – Electronics (mobile phone, iPad, tablet, etc.), a book, portable charger, headphones, earplugs and neck cushion.
Once you have organised the items you plan to pack, don't forget to double-check whether you need to arrange airport transfers. Transport to and from the airport in both destinations is imperative, so ensure that this is booked in advance. With years of experience providing taxi services in Milton Keynes and airport transfers in Olney, we cannot stress the importance of booking transport ahead of time more. If you are in need of any transfers or would like more information on making a booking, please do not hesitate to contact Admiral Express.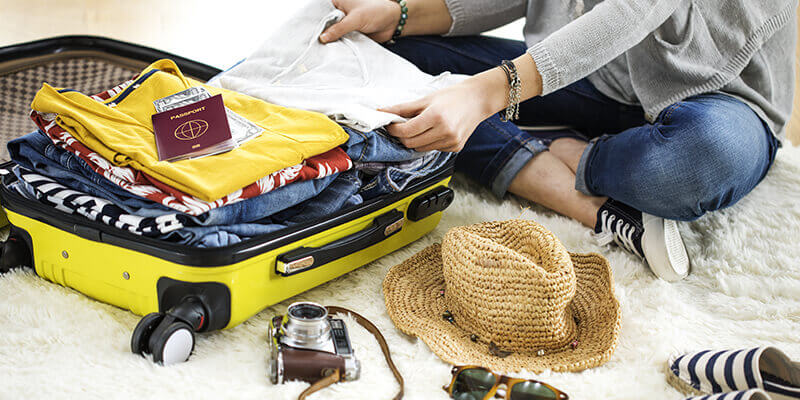 2. Keep Distracted
Especially if you are embarking on a long-haul flight, be sure to prepare ways to keep you distracted for the duration of the journey. The more entertainment that you bring along with you, the more your mind will be taken away from your fears. In bringing along distractions, not only will you reduce nerves during the flight, but also pre-journey. Instead of sitting in departures panicking at the thought of your trip, you can focus on looking forward to, for example, reading a good book or watching your favourite film. There are tonnes of different ways that you can distract yourself, even on the longest of flights, such as:
Reading – As mentioned above, reading is a fantastic way to pass the time. Pick up a book you've been eager to read before your journey or download a new book to your Kindle ready for your adventure.
Films / Television Series – Almost all streaming platforms now allow you to download movies or programmes to then watch later offline. If you do plan to keep yourself entertained by watching something, make sure that you bring along a portable phone charger to avoid running your battery flat.
Music – If you suffer from motion sickness, then reading a book or watching a film may not be the best option for your journey. Instead, opt for listening to music. Find a playlist that you know you will enjoy and will help to take your mind off your nerves. Don't forget headphones!
Games / Puzzles – If you love to get stuck into a new game or puzzle, why not bring a collection with you on your flight? From crosswords to word searches, you will never be short for brain-teasing activities!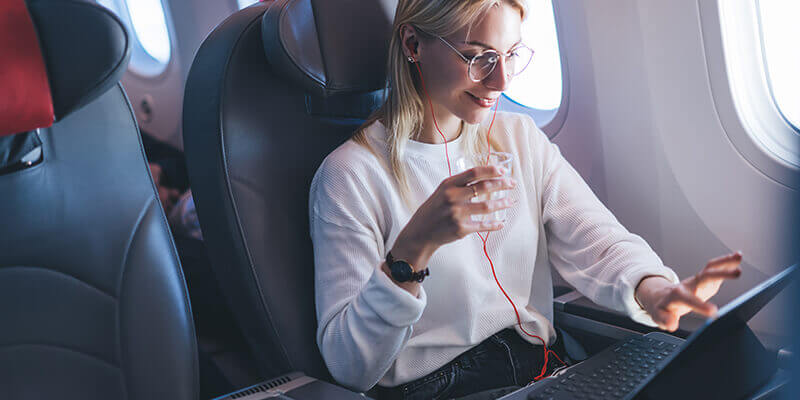 3. Try Breathing Exercises
Many are unaware of how much the pace of your breathing can impact feelings of anxiousness and nervousness. Those who are feeling anxious tend to take short, rapid and shallow breaths, which comes from the chest instead of the lungs. Chest breathing is the biggest culprit for triggering a panic attack as it irregulates your body's oxygen and carbon monoxide levels. This, in turn, then causes you to feel dizzy and increases your heart rate.
With this in mind, deep breathing is one of the most effective ways to lower stress in your body, from the inside, out. Each time you take a deep breath, a message of relaxation is sent to the brain, allowing you a few moments to focus on calming down. When taking deep breaths, you are forced to breathe from the abdomen instead of the chest, reducing nerves and anxiety.
If you notice that you are beginning to feel a little stressed at any point throughout your journey, begin to take deep breaths. Inhale slowly through your nose, feeling your abdomen expand and then exhale through your mouth. You can find eight excellent deep breathing exercises to try on your next flight on Healthline.
4. Try Using Apps
For many, moving their focus from their anxiety to their breathing can prove incredibly tricky. Even while experimenting with the deep breathing exercises mentioned above, it can be challenging to clear the mind. If this is the case, then we suggest using apps to your advantage. There are now a plethora of fantastic apps which help individuals to relax the mind and body, using meditation-style methods. Included in apps is a whole host of guided meditations, which instruct you on how to focus on breathing while taking the mind off your fears.
The Develop Good Habits website has put together an excellent guide to the 15 best meditation apps. We suggest experimenting with a few of their recommendations a few days before your flight to find an app that works for you.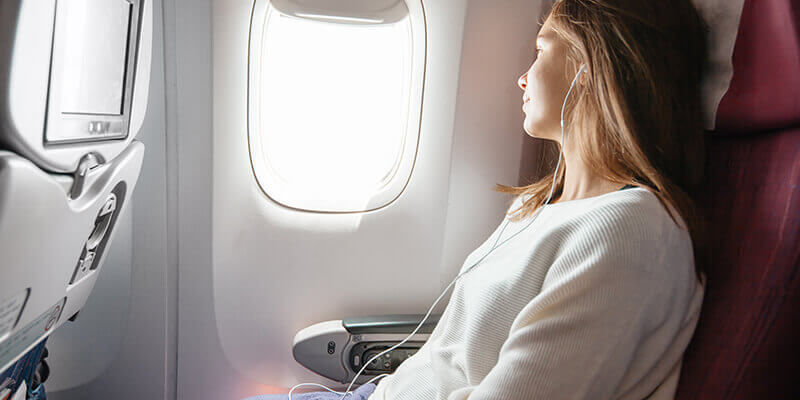 5. Get Comfortable
Let's face it, unless you are lucky enough to fly business class; planes are not the most comfortable mode of transport out there. With limited legroom and seats with little cushioning, it is no surprise that travellers often become a little agitated.
As a nervous flyer, it is vital to try to make the journey as comfortable and relaxing as possible. Sitting upright on a solid chair while feeling anxious will do nothing but make you feel worse. Although unfortunately, there is little that can be done to change the seating arrangements of planes, you can make yourself at home. Ahead of your scheduled flight, invest in a cosy travel blanket, along with a u-shaped travel pillow and eye mask. You might also want to consider using your time waiting in departures to pick up some tasty snacks and drinks to enjoy during your journey!
For more top tips on how to make the most out of your flight, take a look at Skyscanner's article 10 Ways To Make Economy Feel Like First Class.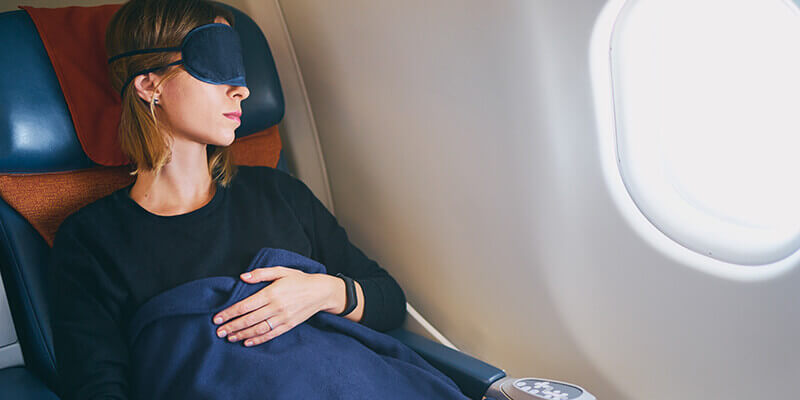 6. Avoid Caffeine
If you know that you are a nervous flyer, even if your flight is at the crack of dawn, try your very best to avoid any form of caffeine. Why? Caffeine is a stimulant, which means that it will increase your feeling of anxiousness. Drinks that include caffeine forces your body into 'fight or flight' mode, which can leave you feeling irritable and agitated. 'Fight or flight' mode is also known as the acute stress response and is your bodies response to danger. More information on this topic can be found on Verywell Mind.
With the above in mind, instead of your morning coffee, opt for drinking water. Keeping your body hydrated by drinking plenty of water will help to ease your anxiety.
7. Talk To Flight Attendants
Flight attendants spend their livelihood accompanying passengers, which means that you will not be the first nervous flyer and you will most definitely not be the last. There is absolutely nothing wrong with mentioning your fear to a flight attendant, just so that they are aware that you may need a little extra attention. Especially if they have many years of experience, attendants may have even picked up some handy stress-busting tips that you can try. Sometimes just having the reassurance that you are surrounded by people who want to help you, can help to ease your anxiety – if you need them, you know they are there!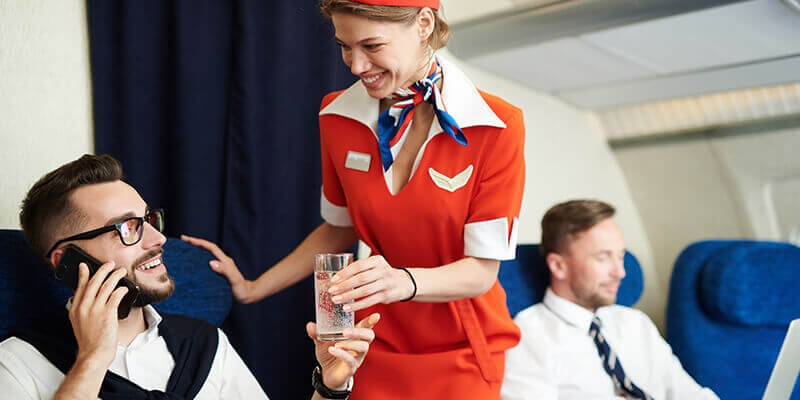 Tackle Your Next Flight With Ease!
Everyone is different, which means that different techniques work for different people – it is all about experimentation. We strongly recommending remaining as organised as possible to avoid anything that may cause a last-minute panic. If you feel as if you need to begin preparing your packing items a month before your flight, do it! It is important to do anything that you know will help to keep your mind at ease. Spend time testing breathing techniques and find entertainment that excites you – we promise that you will be okay!