If you're looking to embark on a late summer holiday where you're guaranteed a good dose of sunshine without having to travel too far, then take a read of our guide. From the Greek Islands to holidays in North Africa, we have found some of the most stunning late summer holiday destinations.
The best late summer holiday destinations
If you missed out your sunshine fix during the earlier months of the year, don't panic. Not only is there an abundance of exquisite holiday locations where you're guaranteed to catch some rays even in September, flights are likely to be cheaper, and you'll avoid the school holiday tourists. What could be more ideal? Here are some prime spots we suggest visiting during the September to October months.
Malta
In the central Mediterranean, between Sicily and the North African coast is Malta. This group of islands are rich in Maltese history and culture, containing more historic buildings than any other European city. During September, temperatures in Malta reach 24°C, and although beaches on the island are limited, make sure to appreciate the weather from Golden Bay or Mellieha.
We suggest staying at the San Antonio Guesthouse which boasts beautiful sea views from a luxury pool. The hotel is minutes away from stunning, scenic walks along coastal cliffs and snorkelling experiences. When it comes to dining, Malta flaunts remarkable restaurants and bars, specialising in high-end seafood eateries. Escape to stunning Malta to enjoy some last minute sunshine.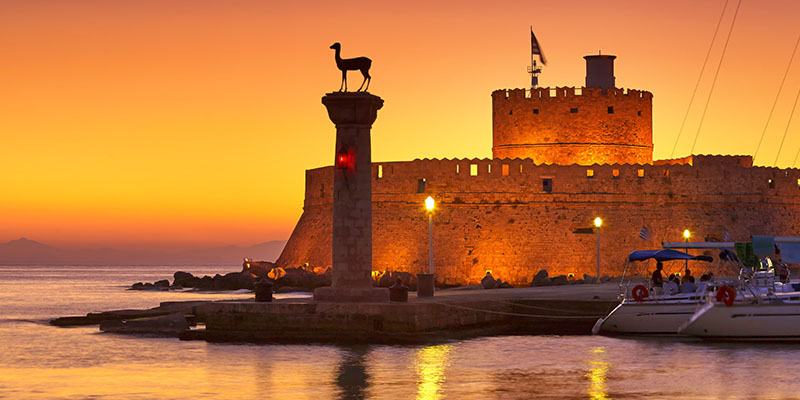 Rhodes, Greece
Rhodes is the largest of the Dodecanese islands and recognised for its stunning beaches, ancient ruins and luxury resorts. There are also a number of festivals celebrated across the island during the later months of the summer. Make sure to get involved in the grape harvest, the Medieval Rose Festival, The Light and Sound Show and a several other religious feasts. Similarly to a lot of holiday destinations in September, Rhodes is also an exhibitor of quieter beaches and lower hotel prices. Temperatures in October reach an average of 21°C but often go up to 24.5°C.
There are a variety of hotels on the island; from luxury five-star boutique resorts to authentic, quirky guesthouses. You'll find that there is an ample amount to discover and experience on this island, and October is the perfect time to do so.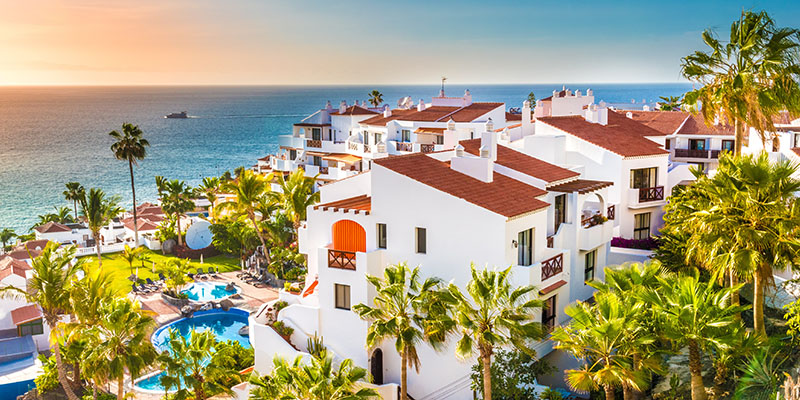 Tenerife, Canary Islands
Tenerife is an exceptionally popular destination for those looking for a late summer getaway. It is the largest of Spain's Canary Islands and incorporates stunning coastlines, fine dining and temperatures reaching 26°C, even in October. We recommend staying in the Hard Rock Hotel, located in the resort of Playa Paraíso, in the western province of Costa Adeje. This part of the island is where Tenerife sees some of its best weather. The Hard Rock Hotel has three heated pools, swim up bars, DJ booths and a plethora of partially submerged sun loungers.
When it comes to dining, the island boats four Michelin star restaurants, the latest to receive the distinguished review is El Rincón de Juan Carlos and is located in Los Gigantes. For a once in a lifetime experience, make sure to visit the whale watching tour which departs from Los Gigantes, Las Americas, Los Cristianos and Las Galletas. Although you are not guaranteed to see any whales or dolphins, bottlenose dolphins, pilot whales, sperm whales and Risso dolphins are all residents of the waters. Turtles, ospreys, killer whales and sharks have also been spotted during the tour.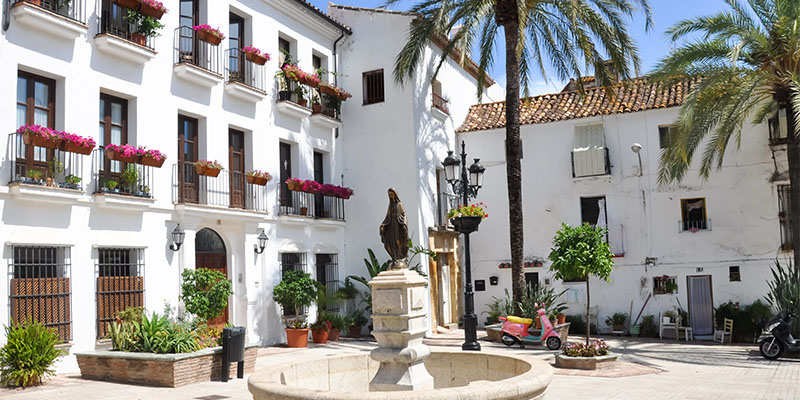 Marbella, Spain
Within the Andalusia region of Spain's Costa del Sol is the city of Marbella. It is made up of sandy beaches, luxury hotels, golf courses, nightclubs, high-end bars and designer boutiques, all against a backdrop of the Sierra Blanc Mountains. In October you are likely to experience balmy temperatures of 22°C which sometimes stretch even into the later winter months. Make sure to visit Marbella's historic Old Town which can be found just up from the main street, Avenida Ricardo Soriano. Experience a whole other world within the city, with the Old Town consisting of ancient architecture, cobbled streets and a plethora of art galleries, eateries and bars.
If you're looking for luxury, then we suggest staying at the Nobu Hotel. It is strictly adults only and boasts a stunning swimming pool, tennis courts, mini golf course, an open-air nightclub and a slew of opulent restaurants. For those in search of designer shopping, head to Puerto Banus where there is not only the prestigious department store, El Corte Ingles, but also a copious amount of luxury shops. Versace, Louis Vuitton and Emporio Armani all overlook the majestic marina. Nevertheless, if you're looking to venture slightly further afield, then why not take a late summer trip to Morocco?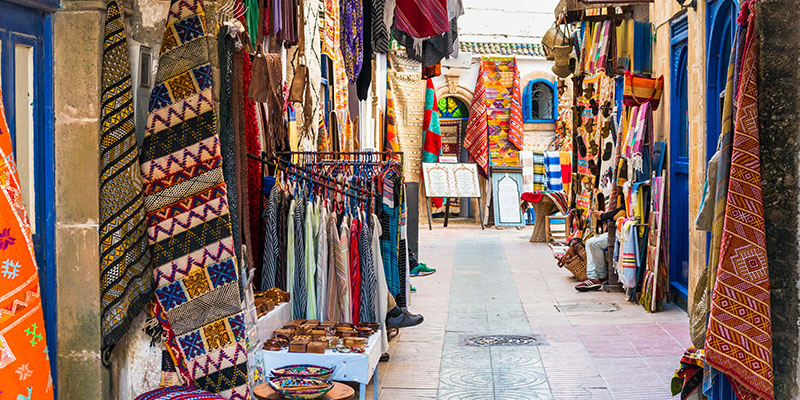 Morocco, North Africa
To be guaranteed high temperatures even in October, head to Morocco, where temperatures reach 29°C. If you are visiting in October then make sure to get involved in the Date Festival, a three-day celebration incorporating music, dancing, food and camel racing. We suggest either staying in or taking a trip to the city of Essaouira, an enchanting and vibrant hub. The Villa Maroc has been expertly rated 9/10 by the Telegraph and is an 18th century riad hotel within Essaouria. It is truly authentic to Moroccan style and integrates African antiques and art into the decor. There is also several patios ideal for quiet reading, numerous lounges, a restaurant, bar, shop and bijou spa. The hotel itself is capable of organising a variety of activities including hiking, cookery lessons and horse riding.
Morocco during the later part of summertime is the perfect place to experience sunny days cooled by Atlantic breezes. This is the ideal time to enjoy relaxing beach strolls, refreshing ocean dips and outdoor terrace dining. For more information about visiting Morocco in October, take a read of this insightful article written by Marocmama.
Summary
These are just a few of the many beautiful holiday destinations that you can successfully enjoy the late sunshine. Hopefully, this article has managed to inspire you to book a late summer getaway. If you're looking to book airport taxi Milton Keynes, then get in touch with us to start your next holiday off in the best way possible.