School holidays; you either love them or hate them. Within a week it often feels as if you have exhausted all ideas, activities and day trips to keep your over-excited little ones occupied and out of trouble. While planning a week-long break abroad may seem like the only way to get some well-deserved rest, they do unfortunately come alongside a rather high price tag and a considerable amount of planning. So, why not try something a little different this year? Ditch the Summer holiday and instead, opt for a weekend city break that is just a short flight away from home. To give you some inspiration on where to begin your search for child-friendly locations, we have devised a guide to the ten best family city breaks in Europe.
A Guide To The Best Family City Breaks In Europe
City breaks have most definitely gained a reputation for being more suited towards couples as opposed to families with younger members. But, this couldn't be further from the truth. While at first, it may seem daunting to take your little ones to a busy city, you would be surprised by the number of fun attractions that they will adore. Over our many years of providing customers with airport taxis in Milton Keynes, we have noticed an increase each year in the number of holidaymakers who are opting for a break in a city. Cities are ideal for introducing children to an array of world cultures, food and landmarks that are unique to the particular location. It allows their little legs to take on new adventures and explore every corner of the city.
1. Barcelona, Spain
Barcelona holds the perfect balance between city life and beach retreats. Not only can you wander through the tasty food markets but also sit back and relax by the sea.
At the centre of the town is the Barcelona Zoo which is open all year round costing only €20 for adults and €12 for children. Barcelona Zoo is most definitely worthy of an entire day out with the opportunity to explore their land of dragons, spectate their live sea lion or dolphin show and feed their family of penguins. If your little ones are particularly interested in the underwater world, they would love a trip to the L'Aquarium Barcelona – you may even get the opportunity to swim with the sharks!
Of course, we cannot mention a weekend trip to Barcelona without incorporating the world famous Camp Nou, home of Barcelona FC. Your aspiring football stars can envision the roar of the crowd as they head through the tunnel to the pitch and visit the dressing room of their favourite players.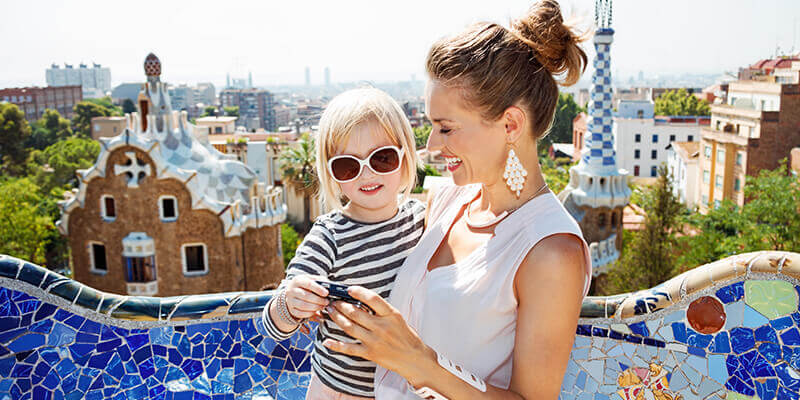 2. Copenhagen, Denmark
With not just one but two amusement parks, you couldn't get more family-friendly than Copenhagen. Home of the oldest amusement park and tallest carousel in the world, Copenhagen is famous for its thrill-seeking activities ideal for adrenaline seekers.
Bakken, just 10 minutes north of the city is the world's oldest amusement park, and even better, entrance is free! Dating back to 1583 and located in the centre of one of the most beautiful woods in Denmark, visitors can enjoy 32 different rides. Rides vary in size meaning that we can guarantee that there will be something suited to every age.
The second amusement park, Tivoli Gardens is packed full of rides, restaurants, entertainment, food and drink – ideal for keeping every family member occupied for an entire day. During every season, Tivoli Gardens throw events in collaboration with a number of different partners to provide guests with a one-of-a-kind experience.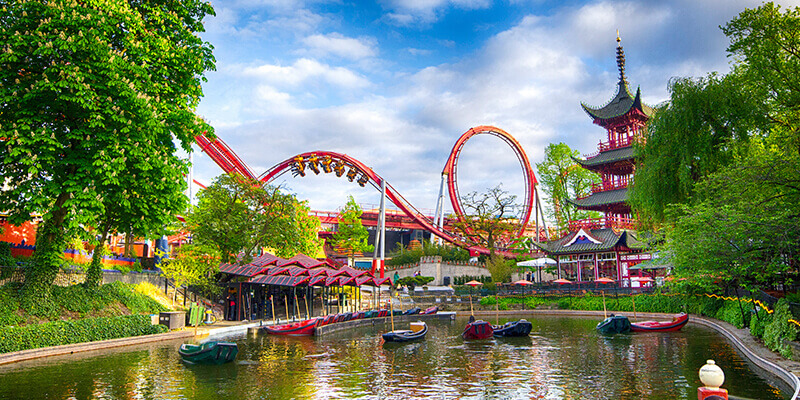 3. London, England
If you're hoping to stay a little more local, then nothing can beat a weekend trip to the capital. With tonnes of different activities to choose from, you will be overwhelmed with options when planning a break to London.
Those who are hoping to stay around central London can immerse themselves in the array of historical landmarks from the Tower of London to the London Eye. If you are yet to visit the Natural History Museum, we'd most definitely say that this should be on your agenda. With the wide variety of mesmerising exhibits in the Natural History Museum, it's hard to believe that it is free to explore. There are even five restaurants in-house to enjoy a well-deserved coffee and cake!
If you're happy to travel a little further afield, then we suggest taking a trip to KidZania. Taking the UK by storm, KidZania is an indoor city solely run by kids. On arrival, children must check into the venue's very own British Airways Airport and are given 'KidZania' money to set them up for their day in the city. During their 4-hour visit, children can try their hand at absolutely every profession possible from a dentist and A&E paramedic to a musician and WWE competitor – what more could you ask for!
4. Paris, France
While Paris is more commonly known as a hotspot for romantic getaways, there are a plethora of family-friendly attractions ideal for all age ranges. Similarly to London, if it is your first trip to Paris, an absolute 'must have' on your weekend schedule has to be a visit to the Eiffel Tower, along with the Musée de Louvre. While it may be tricky to persuade the younger members of the family to appreciate the architecture of the landmarks, we recommend taking a wander down to the Eiffel Tower during the evening. Illuminated from the inside, the landmark features beams of light that strobe from the bottom to the top creating an utterly enchanting appearance.
Speaking of enchanting, a trip to France gives you the perfect opportunity to visit Disneyland Paris. Not only is Disneyland Paris filled with over 50 different attractions but there is also a designated Disney Village filled with specially themed restaurants and shops ideal for picking up souvenirs. Although it may prove a little more on the expensive side, treating your very own Disney princess or superhero to a sleepover in one of the park's many luxury hotels will most definitely be an unforgettable experience!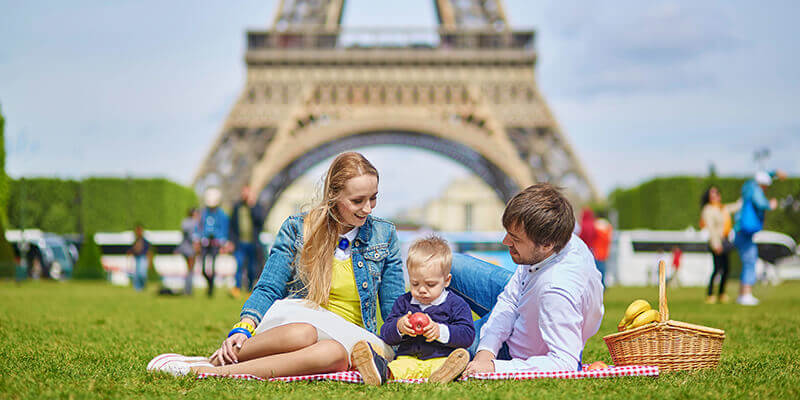 5. Prague, Czech Republic
As one of the more unique of our family city breaks ideas, Prague surprisingly is an incredibly family-orientated place with many hotspots explicitly designed for children.
If the smaller family members, like many, are entirely Lego obsessed then they would love a trip to the Lego Museum which is also the largest in Europe. Included in the museum is over 3,000 unique Lego models including their own versions of the famous landmarks in Prague such as the Charles Bridge. Also included in the city is their renowned Art Gallery for Children, locally known as the Galerie umění pro děti. Here, children are free to interact with several different types of media and can even experiment with altering featured art installations.
If you're hoping to find an activity where children can let off some steam while you relax in the sun, the Dětský Ostrov, translated to 'Children's Island' would be perfect. The Children's Island features multiple outdoor playgrounds filled with swings, sandpits, climbing nets, slides and many more. Located nearby to the Vltava River, there is also a tranquil cafe where parents can enjoy a bite to eat and refreshments.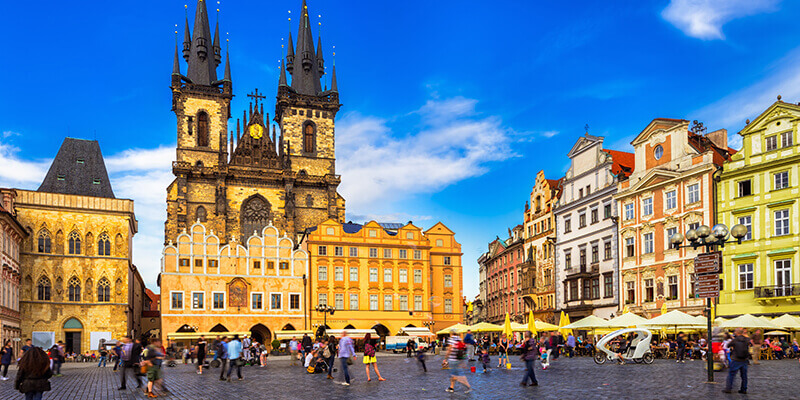 6. Rome, Italy
Rome is filled with stunning architecture; there really is a snippet of history around every corner. While there are a number of fantastic historic locations to visit such as the Colosseum, it does make the capital a little more suited to older children and teenagers. Immersing yourself in Italian culture and ensuring that you visit every spot in Rome will mean that you will find yourself wandering for hours – not too great for little legs which are likely to get bored quickly.
If you're lucky enough to visit Rome during the Summer, a picnic at the Villa Borghese will make a fantastic day out. As the third-largest park in Rome, the landscape garden does have a slight twist of British beauty. After an afternoon of picnicking in the sun, you can choose to visit the on-site museum, hire a paddle boat to take on the lake or take a leisurely stroll around the stunning gardens – don't forget to treat yourself to some delicious Italian gelato. Also located on the Villa Borghese estate is the Bioparco di Roma zoo featuring various animals from boa constrictors to orangutans and lions.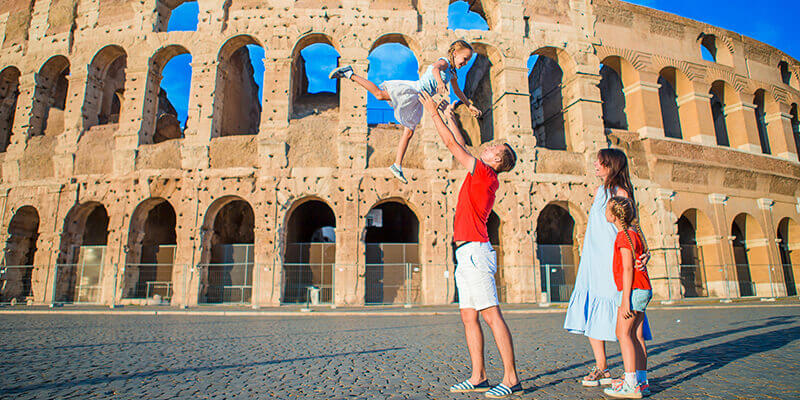 7. Brussels, Belgium
Calling all chocolate lovers – it's your time to shine! As the home of The Choco Story, not only can you enjoy an exhibition on the history behind the cocoa bean but also watch live demonstrations by master chocolate makers; all with samples along the way, of course! Belgium is known for being the finest chocolatiers in the world, and you can continue your delicious journey with a chocolate making workshop at Laurent Gerbaud.
Once you have fulfilled your sweet tooth, if your children are keen comic book fanatics, why not move onto the Comics Art Museum based in the heart of Brussels? Celebrating its 30th birthday this year, the Comics Art Museum has been honouring some of the most well-known characters including Tintin and the Smurfs. The museum is open all day from 10am to 6pm and costs around €10 each for visitors.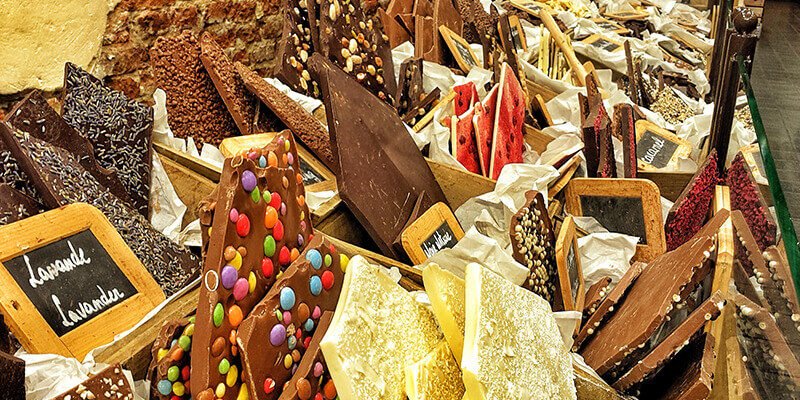 8. Dubrovnik, Croatia
For those who love nothing better than relaxing in the sunshine on the beach but do not want to venture too far, Dubrovnik will prove to be your hidden treasure. With several different beaches including the Banje Beach, Copacabana and Šulići, you will not be short for locations to take a walk through the sand and dip in the ocean. Croatia is known for its host of fun beach activities meaning that you can take kayaking, pedaloes and banana boat trips during your stay.
If your eyes light up when you hear the city of King's Landing, then most definitely need to book your next weekend trip to Dubrovnik. Appearing in the world famous television show Game of Thrones, the medieval walls of Dubrovnik create the backdrop of the fictional King's Landing city. There is even a 3-hour tour available dedicated to fans of Game of Thrones which introduces you to the real-life Lovrijenac Fortress and Minceta Tower.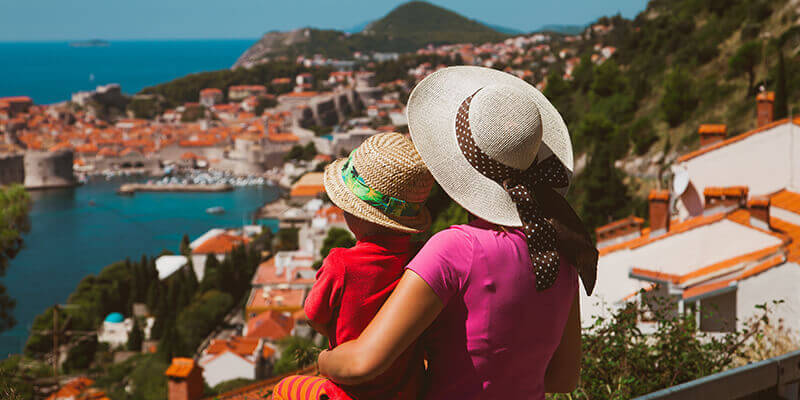 Explore Family-Friendly Trips Around Europe!
Taking a family trip to a city doesn't have to be the daunting task that you had always imagined. There are tonnes of fun, exciting activities in each city that are guaranteed to keep your little (and bigger) ones entertained throughout your stay. Always spend time researching ahead of the date you plan to set off as many of the ideas mentioned in our article may need to be booked in advance to avoid a letdown on the day.
If you're planning a weekend getaway with your loved ones and in need of airport taxis in Milton Keynes and any other surrounding areas, then please feel free to contact Admiral Express!
Happy sightseeing!